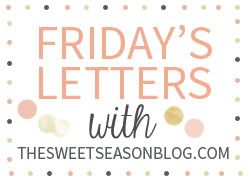 dear kevin: I love you. That's all! dear k.c.: Daddy and I are so proud of you for being recognized as a "Terrific Kid" at school! Of course we already know how terrific you are, but we're excited that you were recognized!" I love you more than all the stars in the sky! dear kaden: You are too sweet. And I'm sorry I made you angry when my Luigi got the frozen flower on Marion Brothers Wii! I love you more than all the candy in the world! dear stephanie: I'm excited for all the cool things happening in your life! And I didn't ever think I'd see you wear orange! And I also forgive you for calling me old. ha ha dear martha stewart: My three-year old has picked out an incredibly difficult cake for his upcoming birthday. Want to help a lady out? dear summer weather: I know spring just arrived, but I can't help it that I'm already craving you. dear God: Thank you for answered prayers and loads of grace!
I confess that...
... I really, really, really want to see the new Tina Fey and Paul Rudd movie. My husband? Not so much. Granted, he chooses much better movies than I do. We watched "What to Expect When You're Expecting" on our honeymoon and that was only because the movies we wanted to watch were out at RedBox and he was being sweet, but still that was about the worst movie I've ever seen and wasted two hours of our lives that we won't ever get back!
... While I haven't worked out at the gym but twice this week (once at my gym and once at another), I'm feeling pretty good about my fitness.
... I can't WAIT to share Kaden's birthday party with you all! The theme has been chosen, invitations have been designed and I'm in full-on party planning mode. I love celebrating our little ones (and my big one!)!

... I really don't feel old, but my sister asked me last night if I was too old to come visit her for the weekend when she goes off to Clemson this fall. Hello, I'm only 26!


... I have a mild obsession with photo books. I'm working on Kaden's three-year book in hopes to have it here by his birthday!

Friday
Rest Day - I had a race Saturday.


Saturday
Sunday
Rest Day
Monday
5.5 miles/ 40:15; Upper Body; 80 push ups
Tuesday
Rest Day - I travelled for work and couldn't work out.
Wednesday
50 push ups
Thursday
6.5 miles (1.5/10 minutes on treadmill; 5 miles/37:00 outside); Upper Body; Abs; Glutes
Total Miles: 15.1
Total Non-Running Workouts: 3
This coming week, I want to increase my mileage, focus more on my abs and glutes and try to do yoga or pilates one day.
Food
This week was not the healthiest for food. While I didn't eat horribly and took my lunch to work most days, we ate out at night a few times. I'm going to have a good meal plan for next week that I'll share with you.