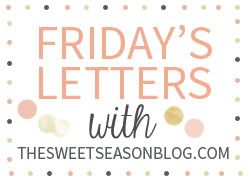 dear KT: Thank you for being the best husband and friend. Seriously. Thank you for also trying to surprise me with a weekend away. I'm looking forward to our Charleston weekend! I love you! dear boys: You two make my heart smile. Every day. The things you say and do are just precious. I love you to the planets and back. dear week: Why have you been so long? Seriously, it's felt like I've done a week of work since Wednesday. And at the same time I don't feel all that accomplished. dear reese cups: Why do you tempt me so? As I'm trying to start eating clean / cutting out most sugar, you rear your delicious little chocolate peanut buttery self and then I'm toast. dear nicholas sparks: Thank you for causing me to cry while reading Safe Haven. There's a reason I haven't read your books, but at the same time, I so want to read most of your other ones. I'll just have to get over crying. dear crossfit: I'm ready for you. I hope you're ready for me. dear weekend: Please linger. Please. dear blog: I've really enjoyed writing from my heart this week. And readers, thank you for your sweet comments and e-mails. AND dear grandmona: Happy Birthday! I love you!
This week, I confess...
I can't eat pickles to save my life. I like the way flavor they leave on my Chickfila sandwich, but I can't bite into them.
I really don't like sandwiches as in two slices of bread, meat and cheese. If you give me a gourmet sandwich, I'll gobble it up, but a regular one? No thanks. My regular sandwich looks like our five year old has gotten ahold of it complete with edges not eaten.
I have fallen back in love with Pinterest. I've been pinning like crazy all week.
I haven't ever really read Nicholas Sparks books. I wasn't crazy about The Notebook which caused me not to read almost all of his other books and see the other movies based off of his books. BUT I read The Lucky One and loved it and the movie and finished reading Safe Haven a few nights ago. AND I think I'm going to have to download some more of his books to read.
I have several house projects I want to get completed, but I haven't even started on them.
My favorite posts from this month:
I shared the lovely
Cara Box
I received.
Labels: Confessions, Friday's Letters, monthly round-up