This is a long post, but I love linking up for each of these on Friday and I love being able to look back and see what was going on.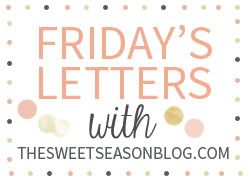 dear kevin:
Thank you for making this
birthday
extra special! And thank you for cooking and having dinner started so much recently! You are the best. I hit the jack pot when I married you! I love you!
dear boys:
You two are the cutest people on this planet. Hands down. I love your sweet hugs and kisses and all of your snuggles. I can't wait for some fun summer times!
dear kayla:
Thank you for my birthday card! It made my day!
dear readers:
Thank you for coming back again and again. I'm really humbled that you read my random thoughts and come back for more. I love talking with you and reading your blogs.
dear God
: Thank you for all of your answered prayers, grace and guidance.
dear weekend:
You and I have a lot to do. Please bring pretty weather!
This week, I'm confessing that...
... I ate Key Lime Pie and a handful of potato chips for dinner last night.
... I'm already h
ooked on this new book
I'm reading.
... I got super excited when I read that the spa I like is giving a $15 discount to April babies on an hour massage.
... I sometimes wish I didn't always have to be the bigger person which I always am.
... I really want a mini vacation to somewhere warm for just a few days or a long weekend.
... I'm really excited for Kaden's upcoming birthday!
This was a good week of workouts! I managed to run all but one day and do some other workouts (predominately abs) most days. One new thing I've done this week is slow down. I don't normally do recovery runs, but I decided to do some slower runs and my legs have thanked me. One of my
27 at 27
goals is to run each day for a month and I think April is going to be that month.
We have an extremely hectic week ahead, so I'm going to plan my workouts carefully. I want to start upping my weekly mileage to be consistently around 20 miles a week and I want to start doing this
ab workout
that
Hungry Runner Girl
has been talking about.
Friday
2 miles/13:56; Gym Workout: Upper Body, Abs, Glutes
Saturday
3.25 miles/22:35; 200 situps with 10 lbs; 50 standing side twists with 10 lbs (each side); 1 minute plank
Sunday
OFF
Monday
2 miles/14:18; 100 situps with 10 lbs; 25 stadning side twists with 10 lbs (each side); 10 Burpees; 3 - 1 minute planks; 2 mile walk with KT
Tuesday
5.25 miles/38:38; 200 situps with 10 lbs; 50 on each side with 10 lbs; 11 Burpees
Wednesday
2.5 miles/18:18; Gym Workout: Upper Body, Abs, Glutes and Legs
Thursday
1 mile/6:30; 100 situps with 10 lbs; 25 standing side twists with 10 lbs (each side); 13 Burpees
Total Miles Run: 16
Total Days Working Out: 6
Labels: Confessions, family, Fitness Fridays, Friday's Letters, running